7 Round 2013 NFL Mock Draft
By Hunter Stewart
The most updated 2013 NFL Mock Draft on the web.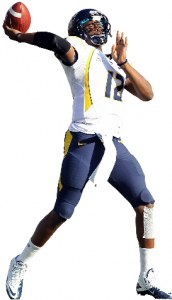 1. Kansas City Chiefs: Eric Fisher, OT, Central Michigan
#1 Offensive Tackle
With the first pick in the 2013 NFL Draft the Kansas City Chiefs select Offensive Tackle Eric Fisher. It seems as though the Chiefs are going to need another Tackle to play the right side even if they keep Albert. If they do keep him Fisher has experience on the right side as well as the left. Additionally he is an athletic tackle that will be able to start immediately.
2. Jacksonville Jaguars:  Luke Joeckel, OT, Texas A&M
#2 Offensive Tackle
The Jaguars could go one of many directions with this selection. The top pick options seem to be Defensive end in Dion Jordan, Quarterback Geno Smith and Dee Milliner for the Jaguars. With this selection I have them taking the best Offensive lineman who should be a solid left tackle for years to come.
3. Oakland Raiders: Lane Johnson, OT, Oklahoma
#3 Offensive Tackle
The Raiders need help in a lot of positions. With that being said this DT class is deep and they should be able to get one in later rounds if needed. The Offensive Tackle class is not as deep. With that said they tackle the offensive tackle that has the biggest upside in this mock draft.
4. Philadelphia Eagles: Star Lotulelei, DT, Utah 
Defensive Tackle
I know everyone is hyping Sharif Floyd as the top Defensive Tackle taking in the 2013 NFL Draft. However, if the Eagles are going to go with a DT I believe that Lotulelei fits their scheme better as he is more powerful and would be a better fit as a 5 technique.
5. Detroit Lions: Dion Jordan, DE/OLB, Oregon 
Defensive End/OLB
The Detroit Lions have to make a decision between corner and pass rusher. I am not dropping Milliner because of his injury concerns but just because Jordan is available and could be nasty off the edge in Detroit.
6. Cleveland Browns: Shariff Floyd, DT, Florida
Defensive Tackle
This is another tough decision for the Browns with the 6th pick…. Dee Milliner or one of  the other top players. I have the Browns selecting Shariff Floyd who has a ton of athleticism for a big guy and will fit well in their scheme.
7. Arizona Cardinals: Chance Warmack, G, Alabama 
#1 Offensive Guard
 The Cardinals have Bruce Arians who is a pro style power football coach. The most powerful player in this 2013 NFL Draft is Chance Warmack so I see this as a great fit. If any of the top OT's were available I would have them go there and I also believe Fluker is a viable option with this selection as well.
8. Buffalo Bills: Geno Smith, QB, West Virginia  
#1 Quarterback
I have heard the buzz but I am holding strong on Geno Smith with this selection. I think if the Bills take a qb at 8 it will be Geno Smith.