Tyrann Mathieu the Honey Badger: 2013 NFL  Draft's best joker corner?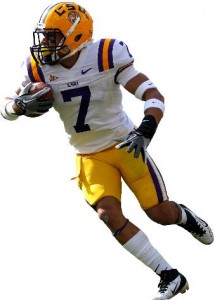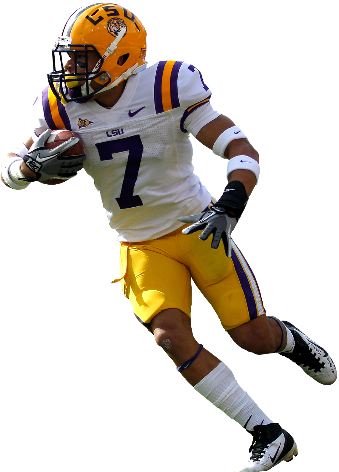 With a class shallow in cornerbacks, is it time to mock Tyrann Mathieu?
Suspended from LSU indefinitely, Mathieu stayed at the University to complete his studies.  Unfortunately in late October, the Honey Badger was detained again for possession of marijuana.
During his playing career, Mathieu garnered great respect and admiration.  He became a walking highlight reel.  With explosive plays and bone jarring tackles, Mathieu warranted first round consideration in the draft.  Considering his potential is limitless, where will Mathieu go, and who will select him in the 2013 NFL draft?
New England Patriots-See Mallett, Ryan.  The Patriots have no issue drafting problematic athletes.  The secondary is so atrocious, the Pats coughed up a 4th rounder for Aqib Talib.  If Mathieu proves to be as good as advertised, New England will take a shot on him in the 2nd or 3rd rounds.
Detroit Lions-The team rap sheet reads like the dialogue for a Cheech and Chong movie.  Yet the brass stands behind the players they've chosen for their roster.  This is a team that gets torched through the air, and Mathieu could be a potential solution to that.  With no veteran leadership, this may not be the environment Mathieu should be in, but the Lions shouldn't hesitate selecting him in the 3rd or 4th rounds.
San Francisco 49'ers-This team is about arrogance and sway.  Mathieu is an electric return man and sound tackler.  His brash attitude makes him a solid choice for this D.  With a veteran leadership in a forgiving city, Mathieu could flourish in San Fran.  Would the 49'er's let him escape round four?
St. Louis Rams-Janoris Jenkins is the new cornerstone for NFL teams.  The Rams stuck their necks out and have nabbed a solid contributor with arguably more issues than Mathieu.  With an already loaded secondary, it's hard to think the Rams could choose another corner.  Yet with a gaping hole at safety, a selection of Mathieu could send last year's pick, Johnson, to free safety.  If the Honey Badger sits atop of round 5, the Rams will make a move on him.
Without drug related issues, Mathieu may have rounded out the bottom of the first round .  He has the talent to be a starter for most teams.  This will not be a case of a player slipping through the entire draft.  Mathieu's potential will likely keep him within the top three rounds of the NFL draft.  Yet a combination of veteran leadership, patient ownership, and a nurturing management has to be in place for Mathieu to succeed in the NFL.
A list of other potential suitors includes:  Arizona, Pittsburgh, Cincinnati, and Dallas.
To see if I have him going in my Mock draft and other mock drafts check out the below links: