Is Geno Smith's 2013 NFL Draft Stock Rising or Falling?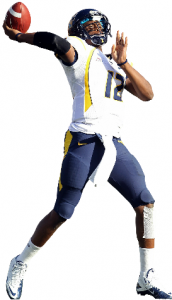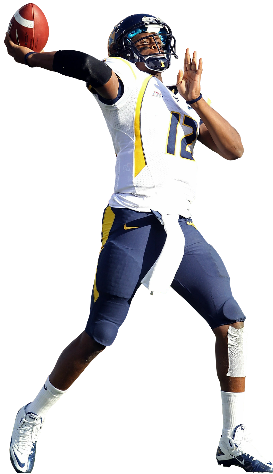 I believe that it is Geno Smith's draft stock has taken a hit (falling) over the last two weeks. I mean it's impossible to say that his draft stock at least wasn't in question a little bit. Lets take a look at the first 5 weeks stats versus the last two weeks stats. I know I know people are saying that in the first 5 weeks he didn't play any good defenses and blah blah blah… lets just look at the stats. Over the first 5 weeks he averaged 399.2 yards passing per game, 4.8 Td's per game and an 81.1% completion additionally without throwing an interception and winning every one of the games. With these numbers I don't think that his stock could go really anywhere but down. So in the last 2 games Smith averaged  209 yds/game, 1 Td per game, 1 interception per game and a 59.2% completion while losing both games badly (49-14 and 55-14) .  Now that I have given you the raw stats and shown what he has done let me tell you what I think about him as a player…
When I say that Geno Smith's draft stock is falling I mean that he is not the clear cut top Quarterback in the 2013 draft anymore which he seemed to be 2 weeks ago (I mean with those stats listed above and the way he was throwing the ball can you blame the draft analysts including me?). He was getting comparisons to Robert Griffin III and Cam Newton (Sorry Warren Moon for comparing him to other young athletic Quarterbacks that happen to also be black). I still believe that Geno Smith does have a similar skill set to Robert Griffin III. He is very athletic and has a live arm much like RGIII. However, I do not believe that he has the breakaway speed that Griffin has in the open field which I don't think will necessarily hurt him the NFL (it actually could help him because he will be less likely to get big collisions while running the ball). When it is all said and done I believe that Geno Smth will be a top 10 pick in the 2013 NFL Draft. I believe this for 2 reasons: 1. The NFL has changed over the last couple years and as much as it makes Warren Moon mad that they are comparing Black QB's to other Black Qb's in this situation that would be a huge plus for Geno Smith and may get him drafted in the top 5 picks of the 2013 NFL draft. 2. There are a lot of teams that took QB's 2 or 3 years ago or traded for backup QB's (Kansas City Chiefs Matt Mistake) that will be looking for a QB early in the 2013 NFL draft.
So with all of the above mumbo jumbo I still believe that Geno Smith is a top tier talent and will be a high selection in the 2013 NFL Draft and I will continue to mock him high in my drafts until I think otherwise… See my mock draft and others below:
-Newnfldraft.com 2 Round 2013 NFL Mock
-Tyler's 3 Round 2013 NFL Mock Draft
-Orinda's 4 Round 2013 NFL Mock Draft